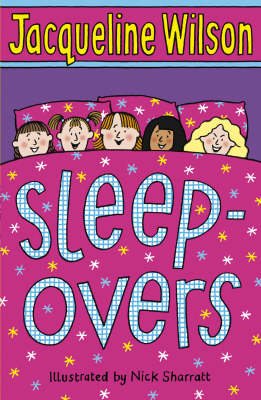 Sleepovers is a children's book by Jacqueline Wilson.
Sleepover

Release Date

June 18, 2001

Illustrator

Nick Sharratt

Publisher

Doubleday, Young Corgi

Age Range

6-8
Characters
Edit
Daisy - A little girl with a big imagination. She and her friends are all in the Alphabet Club.
Amy - She and the girls dance and dress-up for her birthday sleepover.
Bella - She likes food, and has swimming for her birthday sleepover.
Chloe - She doesn't like daisy and tries to not invite her to her sleepover
Emily - She goes off chocolate after the first sleepover.
Lily - Daisy's big sister. She has special needs and sits in a wheelchair. All she can say is "Ur, ur, ur, ur".
Mum - Daisy and Lily's mother. She feeds Lily and helps her change.
Dad - Daisy and Lily's father. He jokes with Daisy.
I bet you're all thinking about what happens at the end of the book. Sorry for being vague but I like the whole mysterious aspect of it all.
Daisy eventually decides to have her own sleepover in the end, following an absolutely HORRIFIC one from the horrible Chloe. With the help of her parents, Daisy has a brilliant sleepover with old fashioned party games, a fantastic themed tea and a tent to spend the night in. After the girls have fallen asleep, Daisy gets awaken by Chloe, begging her to show her where the toilet is. By this time, everyone apart from Chloe has met and understood Lily's condition. As the two tip-toe across the landing to not wake anyone, Lily hears their footsteps and feels it's time to wake up. "UR UR UR UR!!!!!" she shouts at the top of her voice. Chloe and Daisy jump and Chloe also has a little accident. She gets driven home by Daisy's dad in the middle of the night and the rest of the girls have fun with Lily. The following Monday, Chloe comments about Lily to Daisy and the other girls in the school, even though Chloe's never seen or met Lily. Eventually, the girls tease Chloe they about her night-time accident and she turns silent. Chloe is no longer an Alphabet Club member and goes off to other girls to create a new group. The other Alphabet Club girls enjoy going around in a happy foursome and Daisy finally has a best friend to call her own.