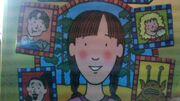 Rosalind Hartlepool is the main character from the Jacqueline Wilson book Four Children and It. Rosalind is the older sister of Robbie, the half-sister of Maudie, the stepsister of Smash, the stepdaughter of Alice and the daughter of David. She is the oldest of the kids and is sixteen years old. She likes bullying others and is always trying to get Smash in trouble. When the Psammead grants them the wish of being rich and famous, she gets to be a writer that shows off at every single time she can. Rosalind behavings like a two-year-old, always trying to have the attention on her. She loves playing with teddy bears and Barbie dolls. Twice she is silly enough to wish herself in the past and would have beeen stuck there if it wasn't for Smash. Rosalind had criicized Smash before about making that mistake. She is very spoiled and has never been beaten.
Robbie - Rosalind's younger brother. He is seven years old and is incredibly babyish.
Smash - Rosalind's kind younger half-sister. She is ten years old.
Maudie - Rosalind's adorable half-sister. She is three years old.
Alice - Rosalind and Robbie's stepmother and Smash and Maudie's mother, she is beautiful, blonde and slim .
David - Rosalind and Robbie's father and Smash and Maudie's stepfather.
The Psammead - A furry creature who grants wishes and Rosalind reads in her book Five Children and It.
Robert - A boy from Five Children and It.
Cyril - An older boy from Five Children and It.
Jane - A girl from Five Children and It.
Anthea - An older girl from Five Children and It.
The Lamb - The youngest boy from Five Children and It. He is the same age as Maudie and looks like a boy version of her.
Stats
All about Rosalind
Full name
Rosalind Hartlepool
Appearance

Plain, brown hair tied in plaits, pale skin

Age
11
Birthday
January 10
Relatives
Robbie Hartlepool (younger brother), Smash and Maudie Hartlepool (younger sisters), David Hartlepool (father), Alice (stepmother)
Friends
Robbie, Smash, Maudie, David, Alice, Psammead, Robert, Cyril, Jane Anthea, the Lamb, Naomi, Bob
Enemies
Smash (sometimes/formerly)
Likes
Reading, writing stories, her siblings
Dislikes
Smash at times, Robbie or Maudie upset, being the oldest (sometimes), Maudie liking Smash
Fate
Receives a notebook from David and writes a story about her holiday in it.