Martine Diamond

Birth Name

Martine Diamond

Age

16

Family members

Sue Diamond (mother) Dave (father) Jude Diamond (sister) Rochelle Diamond (sister) Dixie Diamond (sister) Unborn child

Significant Others

Tony

Appearances

The Diamond Girls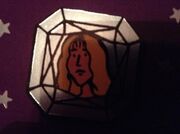 Martine Diamond is a supporting character in The Diamond Girls by Jacqueline Wilson. She is the eldest sister of Dixie Diamond, the main character.
Physical Appearance
Edit
Martine is sixteen years old and described as very pretty. She looks exactly like her mother with thick black hair bit trys to change this by dying it blonde. She also wears low jeans because her mother weats short skirts.
Biography
Edit
Background
Edit
Her mother Sue began dating Dave in Year Ten. Sue became pregnant when she was sixteen with Martine and disowned by her outraged mother. Dave apparently tried to be a good father and be there for Sue but he couldn't cope and left them. At one point he moved to Australia and never kept in touch. It was just Martine and her mother, until Sue got a new boyfriend named Dean. He was lovely to them at first but then began physically abusing both Sue and Martine. Sue had a child with him called Jude but still left to save them. Martine doesn't seem to enjoy school and claims she can't wait to leave. When they move to the North Block on Bletchworth Estate, she begins a relationship with Tony, the boy next door. They are very serious though her mother is worried Martine will make her same mistakes.
The Diamond Girls Edit
Martine is very unhappy with her mother's decision to move to the Planet Estate, criticising Sue for getting pregnant again and accusing her of ruining her life. She also doesn't want to leave Tony. Sue eventually persuades Martine to come with them and Martine reluctantly agrees, though she insists she will return to Bletchworth to be with Tony after the baby is born.Martine is appalled by the state of their new house and blames her mother. She tries to help clean up and look after her sisters, but they end up fighting and Martine spends most her time texting Tony and complaining of stomach bugs. She goes with her mother to hospital when the baby comes early and tries tries to take care of Sundance, her new baby brother (actually sister). However, Sue, who is pretending Sundance is a boy and apparently suffering from post-natal depression, refuses to let Martine near the baby, driving her further away. It is eventually revealed that Martine is pregnant with Tony's baby. She and Sue get into a huge argument, which Bruce accidently makes worse. Martine calls Sue a slag and storms out, intending to go back to Bletchworth. She goes back and meets Tony walking home from school. They return to his house but she ends up fighting wuth him abd his mother because they badmouthed her family and may have been unhappy she was pregnant. She leaves immediately when she hears her sister Dixie was involved in an accident. She makes up with Sue and reveals she intends to keep her baby.